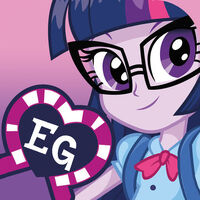 Equestria Girls
is a free-to-play video game for iOS and Android mobile devices published by
Hasbro Inc.
and was released on June 14, 2015.
Gameplay
The gameplay consists of doing tasks for the characters of the series. The tasks are related to one of the films and the app also features the areas of Canterlot High School, which usually involve navigating the school's halls to retrieve and gather items for various characters.
The player can scan a doll's necklace and a zap code included in the Equestria Girls Minis packaging to unlock in-game clothing, gems, and coins.
The game's story is divided into several chapters: the first Equestria Girls movie, Rainbow Rocks, and Friendship Games. The fourth movie, Legend of Everfree, is referenced only with several items of fashion, and Equestria Girls Minis is alluded to in the form of several mini-games set in a sleepover party in Pinkie Pie's house.
Mini-games
There are seven mini-games to play with: an archery game, motocross game, roller-skating game, a "Cosmic Battle" game, catch the ingredients game, bracelet-making game, and a DJ-ing game. The archery, motocross, and roller-skating games are part of the Friendship Games update, while the "Cosmic Battle", ingredients, bracelet-making, and DJ-ing games are part of the Equestria Girls Minis update.
Gallery
| | |
| --- | --- |
| | This section should be expanded or updated. You can assist by editing it. |
Usual gameplay
Archery Game
Bracelet-making Game
Cosmic Battle Game
Catch the Ingredients Game
See also
Community content is available under
CC-BY-SA
unless otherwise noted.