"Some lies can lead the world to hope... Some truths can lead the world to despair... So I don't think anyone can really say which is more right in the end."
— Shuichi Saihara, Danganronpa V3: Killing Harmony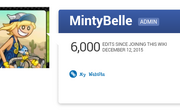 Greetings to you, fellow user. I am Minty Belle, otherwise known as Minty. I've been on this Wiki since 2015 and I'm also an administrator. I'm often found editing the file space but also helping out in the mainspace. If you need help with anything, please feel free to contact me on my message wall.
Aside from being a MLP/EG fan, I'm also an avid fan of several games, and I'm a Danganronpa fan too!
Bonus thing: And as you can see that pic above, turns out I had 6000 technical edits achieved by April 15, 2017!
"Creative" editcount
MintyBelle's edit statistics
MintyBelle has made:

namespace edits on the My Little Pony Equestria Girls Wiki.
Community content is available under
CC-BY-SA
unless otherwise noted.